Send A Smile Today
We know the fight against cancer can get long and arduous. That's why we recently partnered with Send A Smile Today to write cards of encouragement for patients fighting throughout the country. As a company, we stand with all of those fighting and we want to let patients and their families know they are not alone.
Girl Scouts
Our company hosted the Girl Scouts River Valleys Troop 10811 which gave our team members the opportunity to learn about all the great things the Girl Scouts organization does to empower young girls to be positive and active forces in the community. Broadway is a proud sponsor of the Girl Scouts organization. In addition to making a monetary contribution to the organization, this year we supported our local troop's cookie selling efforts by buying a box for all Broadway employees to enjoy. This gave the girls a chance to practice their sales pitch as well as fine-tune their public speaking skills. One small thing we can do to support the next generation of women leaders!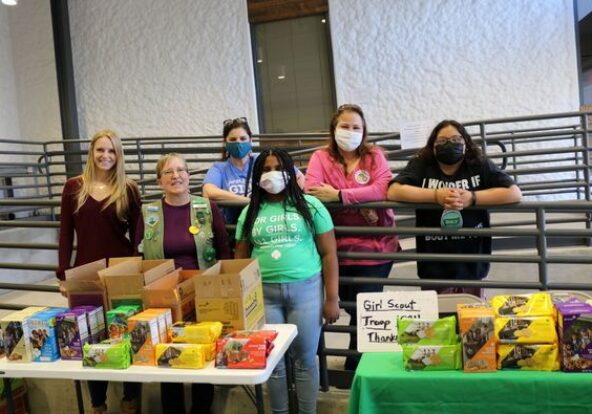 COVID-19 Masks
When the pandemic put a slight halt on production, our sewing team adapted to the situation. This talented team switched from sewing car wash cloth to sewing masks for employees, their families, and various non-profits and senior care facilities in our neighborhood.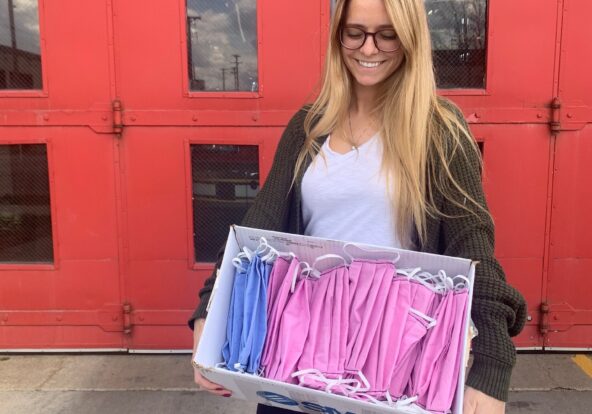 Tie Blankets for Kids in Need
Employees from across all departments teamed up for this one! My Very Own Bed's mission is to provide new beds to children ages 2-17 in families who have recently moved into more stable housing in the Twin Cities metro area. By providing beds and linens to kids who need them, they're making those new homes more livable and restful. We made no-sew blankets to help make that transition just a little easier.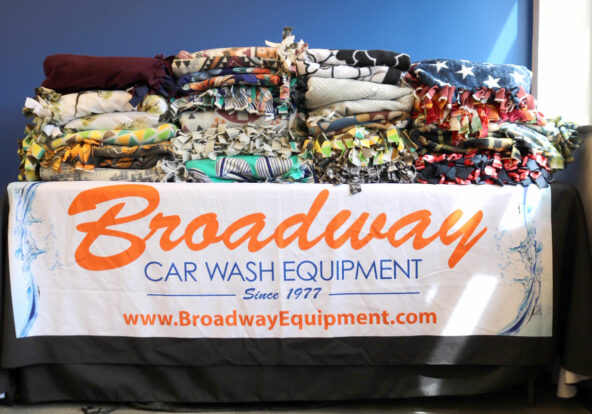 Team "Sarcoma Sucks"
When one of our community members faces a battle, we're ready to stand behind them as they fight. We were proud to sponsor a team who rode their bikes 168 miles around Lake Winnipesaukee, NH, to raise over $55,000 for the Dana Farber Cancer Institute as part of the Pan-Mass Challenge to help others fight their battle.
For the Littlest Members of Our Community
Broadway employees stepped up to help out those who are too young to help themselves. We collected baby items and donated them to a local church, which made sure they went to those who need them most. Broadway contributed by donating diapers—we know how quickly those can go!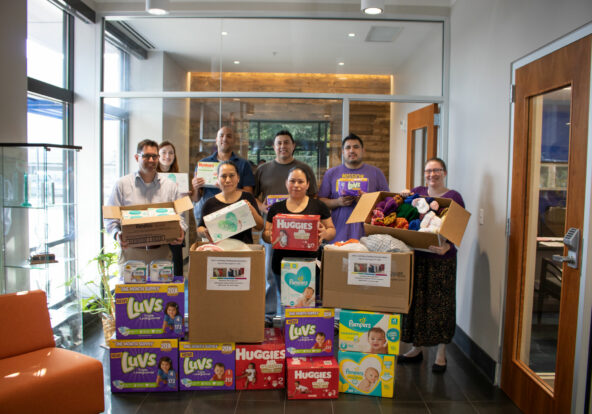 Encouraging Youth Activities
Kids who play youth sports have higher self-esteem, stronger connections with their school, better peer relationships and fewer behavioral problems. Broadway sponsors several youth sports activities to make sure kids have the opportunity to get out and play.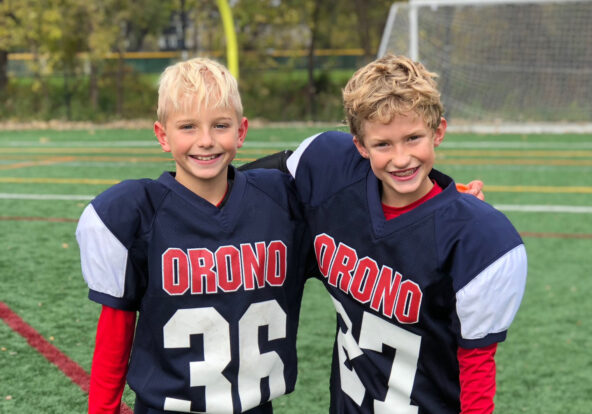 You have a need, we have a solution. We manufacture every product you would possibly need for your car wash.
Contact Our Team to Learn More or Share an Opportunity
Community is at the heart of all we do here at Broadway. If you'd like to learn more about us, we welcome you to reach out. If you know of an opportunity that Broadway could participate in, please let us know!